Vaikom Muhammed Basheer Chair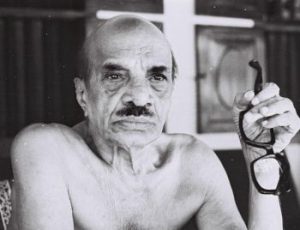 The chair was instituted by the University in 1994 to perpetuate the memory of the great Malayalam fiction writer Vaikom Muhammed Basheer.
Basheer was born in the village of Thalayolapparambu, Kottayam on January 19, 1908 .He resolved to join the fight for an independent India and became a member of Indian National Congress. He participated in the Salt Satyagraha in 1930. He travelled all over India and many places in Asia and Africa for almost ten years. His writings were inextricably enmeshed with his vast experiences.Basheer carried on an uncompromising fight against traditionalism and brought Malayalam literature into intimate contact with the life of common people. The merit of basher's work is that under the garb of presenting social problems, he unfolds the working of the human mind.
He died in Beypore, on 5th July 1994.
The activities under the chair are conducted like an ongoing programme whereby a senior academic or a writer or scholar of repute is invited to direct the activities related to fiction studies and translation work then underway in School of Letters.The chair has already been held by eminent scholars who are well known among academics for the work they have done in their respective field: Linguist Scholar Professor R.E Asher from Edinburgh, renowned Poet Padma Shri Jayanta Mahapatra from Cuttack and Dr.Susie Tharu, a well known Professor and a scholar in cultural and women`s studies who retired from the Department of Critical Humanities at the Central institute of English and Foreign Language , Hyderabad. The Chair mainly undertakes events related to Cultural Studies with a special focus on the culture of Kerala.The academics –including the faculty and the students- at School of Letters make it a point to extend their activities beyond the confines of the curriculam.Some of the important events are the following.
1996
Three-day Poetry Translation workshop was organized under the auspices of the Vaikom Muhammed Basheer Chair in collaboration with the Department of Pritng and Publishing on 23-25 October 1996. Prof. V.N Rajasekharan Pillai, Vice- Chancellor of the University inaugurated the workshop on 23 October 1996. The Ambedkar memorial lecture was delivered by Sri. Jayanth Mahapatra on the topic Silence to Poetry on 24 October. The Zakir Hussain memorial lecture was given by the Telugu poet Nikhileswar on the topic Poetry and Politics on 25 October.Poets from several Indian languages were participated in the workshop.
2007
A two day conference was conducted on-' Thinking the Dalit Question Today; Literature, Theory, Practice' and on' The life and works of Dr. K. Ayyappa Panicker, eminent poet, critic, translator and academic' under the aegis of the Chair.