Pala Narayanan Nair Chair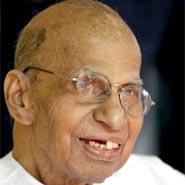 Pala Narayanan Nair was born to Keezhpallil Sankaran Nair and Parvathy Amma in Pala on 11 December 1911. Malayalam poetry has attained dazzling heights of glory at his hands and his most celebrated work 'Keralam Valarunnu' penned in 1953 in ten volumes earned him the Mahakavi title.
'Amruthakala' an anthology of poems ,Shanthi-vaikhari,Kasturba, Aalippazhom, Anthyapuja were also among his selected works.He was the first secretary of Kerala Sahitya Academy and was the recipient of Vallathol Puraskar,Ulloor Award ,Ezhuthachchan Puraskar, Mathrubhoomi Puraskar, first Puthezhan Award,Asan Award,Mooloor Award and also Kerala Sahitya Academy Award. He died on 11 June 2008.
The Chair was instituted in the University on 3 August 2010 in commemoration of the renowned writer.The chair has an added blessing by the presence of Dr.Sukumar Azhikode,the famous writer, critic and orator who has been nominated as its first Incumbent for a period of two years from the date of assuming of Office.