"Saudi Arabia set to become a major industrial power" Says British scholar
"Saudi Arabia set to become a major industrial power" Says British scholar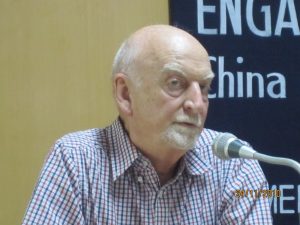 Saudi Arabia is poised to become a major industrial power and an important player in world trade, according to Prof. Tim Niblock, scholar of West Asian Studies and emeritus professor, University of Exeter, UK. Prof. Tim was delivering a Special Lecture on "the Political Economy of Saudi Arabia" under the auspices of the K.P.S. Menon Chair for Diplomatic Studies, School of International Relations and Politics (SIRP), Mahatma Gandhi University today. He said that the Saudi economy is in the process of developing the essentials of an industrial jump with its petro-chemical industry being the focus of attention. The advantage of the Saudi petro-chemical industry is that it has enormous potential to offer products with competitive price in international trade which is now under pressures of control of states. Since Saudi Arabia joined the World Trade Organisation in 2005, a new opportunity has emerged as states are compelled to open their markets for Saudi products. The Saudi oil and natural gas deposits strengthen the viability of this industry in the long-run.
Prof. Tim, however, said that the labour competitivity poses a particular problem in Saudi Arabia. The governments in the past have sought to reduce reliance on foreign labour (skilled, unskilled and professional). The consequence of these measures has been to raise overall labour costs and reduce labour productivity. At most levels, Saudis benefit from better wages and working conditions than foreign labour. The aim to reduce foreign labour while promoting economic production geared to the global market, them, requires two strategies–either the remuneration and conditions of local labour should be cut down to the same level as that of foreign labour; or else the skills of Saudis, and therefore their productivity, have to be raised to exceed that which foreign labour could provide. Prof. Tim observed that the Saudi population needs to be able to draw benefits from the wealth of their country. The employment should encompass the whole population. Without a state policy, the social gap between different sections of the population will grow, intensified by the inequalities engendered by occasional predatory behaviour. Such a situation would affect the social stability, undermining the effectiveness even of those economic sectors which are destined for global pre-eminence, he said.
Dr. K.M.Seethi, Mr. Antoine de Seigneurens, Dr. A.M. Thomas, Sri. M.V. Bijulal, Dr. Mathew Kurian, Mr. Thomas Mohan, Mr. Asok Alex, Mr. Vishnu and others spoke.
Prof. Tim Niblock is K.P.S.Menon Chair honorary professor in SIRP who will officiate the position during 2010-11.