K.P.S Menon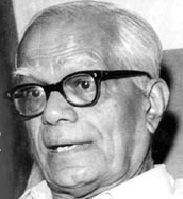 K.P.S.Menon was born in Kottayam, a part of the erstwhile Travancore State, Kerala, in 1898 and educated at the C.M.S School, Kottayam. He had his higher education at the Madras Christian College and Oxford, and joined the Indian Civil Service in 1921. Menon's first assignment was under the Madras Presidency, but he soon joined the Foreign and Political Department, the first Indian to be so elected. He served the Government in the North West Frontier of India and Baluchistan, in the Princely States of Hyderabad and Rajputana and in the Central Secretary.
Menon also served overseas; he was the Agent of the Government of India in Ceylon (1929-1933), visited the Indian communities in Zanzibar and East Africa in 1934. In 1943 he took up the post of Agent General for India in China. Menon was the Chief Adviser to the Indian Delegation at the San Francisco Conference which gave birth to the United Nations in 1945. He also served as the Chairman of the UN Commission on Korea in 1947 and then became the First Secretary of India after independence. From 1952 to 1961 he was Indian Ambassador to the Soviet Union and concurrently accredited to Poland and Hungary.
After his retirement he held many honorary positions such as President of the Sangeeth Nataka Akademy; Chairman, Indian Statistical Institute, Chairman, International Wing of the Bharatiya Vidya Bhavan; and President, Indo-Soviet Cultural Society. He also won many wards and honours which included the Padma Bhushan and Lenin Prize. His writings include Many Worlds Revisited, Russian Panorama, Journey Round the World, Twilight in China, India and the Cold War, The Flying Troika, Russia Revisited, Lenin Through Indian Eyes, The Indo-Soviet Treaty, Biography of Sir C. Sankaran Nair, Memories and Musings, Changing Pattern of Diplomacy.