coastal security
NATIONAL WORKSHOP ON "COASTAL SECURITY: NEEDED A NEW LOOK"
8-9 December 2009
The two-day National Workshop on "Coastal Security: Needed a New Look" was held on 8-9 December 2009 under the auspices of the K.P.S. Menon Chair for Diplomatic Studies. The workshop was held in the backdrop of threats to national security by non-state actors and terrorists via India's adjacent sea space which has become a matter of great concern not only for the Government at the Centre but also those of the coastal states. The workshop not only debated on wide range of issues concerning coastal security but also proposed actionable recommendations for policy makers both at the Central Government as also at the State government for appropriate short-term as well as long-term actions in this regard. A cross section of academics and stakeholders such as Kerala Police, Indian Navy, Indian Coast Guard, Port Trust, Department of Fisheries, Department of Ports, Marine Police, Customs (Preventive) etc participated in the workshop. Prof. K.N.Panikkar, Vice Chairman, Kerala State Higher Educational Council inaugurated the Chair. Prof. Rajan Gurukkal, Vice Chancellor, Mahatma Gandhi University delivered the Presidential Address. Prof. K.R. Singh, K.P.S.Menon Chair, offered felicitations. Dr. K.M.Seethi, Director, SIRP, welcomed the gathering and Dr. A.M. Thomas proposed vote of thanks. In the sessions followed, there were presentations by experts from various agencies and institutions.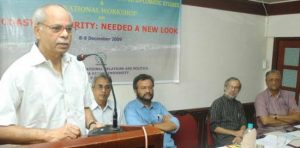 Prof. K.N.Panikkar delivers inaugural address
Prof. K.R. Singh (K.P.S.Menon Chair), Dr. K. Vikraman Nair (SILT), Adv.V.M. Syam Kumar (High Court of Kerala), Dr. R Swaminathan (CCCS), Dr. V. Suryanarayan (NSAB), Sri. Hormis Tharakan(NSAB), Dr. W. Lawrence Prabhakar (MCC), Dr. Vijay Sakhuja(ICWA), Dr. Sudhir Sakhuja (Manipal University), Commander Akhilesh Kumar TP(Indian Navy), DIG B.K. Loshali (Indian Coast Guard), Dr. Arvind Kumar(Manipal University), Sri. K.K Rajendran (KSMDC), Sri. Marshal Frank (Fisheries Advisory Baord0, Mrs R. Sandhya Dept of Fisheries), Sri. Mirsa (Customs Preventive), Sri. Padmakumar IG, Captain Suresh (Indian Navy), Sri. Jacob Punnoose (DGP of Kerala), Dr. Rajan Varughese (PVC) and others participated in the workshop. Sri. Jacob Punnoose delivered the Valedictory address. There were 175 participants in the workshop. The deliberations of the workshop were momentous and the delegates who participated in the workshop offered valuable insights on the different aspects of the focal theme. The proceedings and recommendations of the seminar have been brought out in a volume published by the KPS Menon Chair.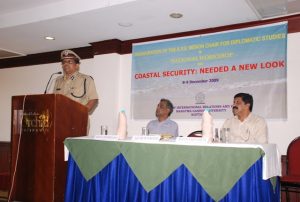 Sri.Jacob Punnoose delivers valedictory Address