UNIVERSITY LIBRARY
University Campus, Priyadarsini Hills P. O., Kottayam-686560.
Tel: 0481-2731018, 2733527, 2731080, FAX: 0481-2731017.
Web: www.library.mgu.ac.in.
E-mail: library@mgu.ac.in .
University Librarian:
Smt. Annu George,
Deputy Librarian in Charge of University Librarian,
Mob: 9495063091.
Working hours: 8 A.M. to 8 P.M. on all working days, 10 A.M to 2 P.M on Second Saturdays and Sundays.
Membership: PG and MPhil Students, Research Scholars, Research guides, Teachers of all University Schools & Centres and affiliated colleges, Regular employees of the University and the Public who are Graduates.
Study Centres
1. Pala                                   : St. Thomas College, Pala-686 574
2. Changanacherry                : N.S.S. Hindu College, Changanacherry -686 012
3. Kottayam                           : CMS College, Kottayam
4. Thodupuzha                      : Newman College, Thodupuzha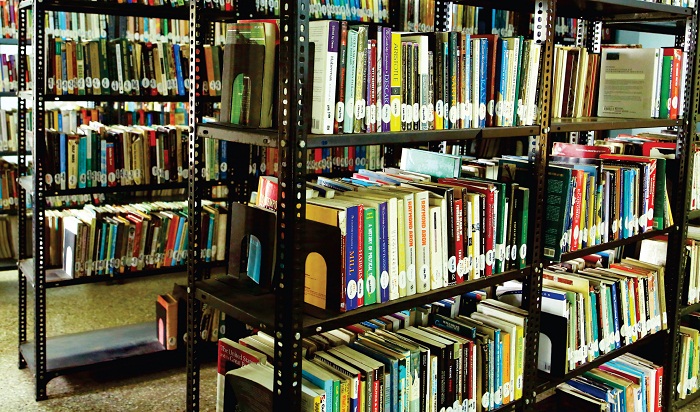 The University Library in the campus occupies purpose – built accommodation, and provides a variety learning environment. These include individual work spaces, room for group study and teaching, audio – visual access and online information retrieval system.
The University Library was started in 1989. The library from its infancy has taken exclusive initiatives to imbibe ICT into the entire gamut of its activities. MGU Library and Information System consists of University Central Library, more than 30 libraries of the departments/schools and 4 Study Centres situated in different campuses.
The library is a member of the INFLIBNET Centre, Ahmedabad (Information and Library Network), an Inter-University Centre of the University GrantsCommission. INFLIBNET Centre support has enabled it to improve the quality and relevance of University information services. The University Library is a fully automated system using the library automation package SOUL developed by the INFLIBNET Centre. It is also a member of the DELNET (Developing Library Network). As a member of this networks, the library provides access to the resources of other major libraries of the country to its users.
Mahatma Gandhi University was one of the first fifty Universities to come under the UGC-Infonet Programme. Through UGC-Infonet E-journals Consortium, the Library has access to more than 7500 e-journals and databases including SciFinder Scholar and Web of Science. The Library also has access to major online databases, such as EBSCO, ProQuest Dissertations and Theses, Oxford Scholarship Online, IEEE All Society Periodicals Package etc.
Mahatma Gandhi University has won the State IT Award during the year 2009 in the e-learning category for its University Online Theses Digital Library. With the launching of the Mahatma Gandhi University Online Theses Digital Library, it has become the first  Indian University to adopt Open Access of its doctoral research theses to the academics worldwide through www.mgutheses.in
The University Library has a collection of 57,350 books, 2,500 e-books, 2,050 theses and 7,500 bound volumes of journals. In addition to this, the library subscribes 253 current Indian (169) and Foreign (84) journals, 4 Online Databases and 4 Online Journal Archives.
For more Information visit : www.library.mgu.ac.in
Contact : 0481-2731018