University Employment Information and Guidance Bureau
University Employment Information and Guidance Bureau
M.G. University, Priyadarshini Hill  P O, Kottayam- 686560
Phone No: 0481-2731025,
Email: mgueigb@yahoo.ca , ugbktm.emp.lbr@kerala.gov.in
Functioning under the National Employment Service department of Kerala
Hon. Chief: Prof.(Dr) T.V Thulasidharan, Professor, School of Pedagogical Science,9447258956
Dy. Chief: Sri G. Jayasankar Prasad, 9446050413
The University Employment Information and Guidance Bureau, functioning with the assistance of Mahatma Gandhi University in the University Campus, commenced its activities in May 1990. The functions of the Guidance Bureau is monitored by an Advisory Committee under the Chairmanship of the Hon'ble Vice Chancellor. The Advisory Committee consists of 11 members including the Vice Chancellor. The Bureau has a Chief, a Deputy Chief, two Clerks and a Peon. Prof.(Dr) T.V Thulasidharan, Professor, School of Pedagogical Science is the Chief. and Sri G. Jayasankar Prasad took the charge as Deputy Chief from 05.03.2015. The Deputy Chief, Clerk and Peon are State Government Employees. The Chief is appointed by the University who is a member of any statutory department.
Objectives of the Bureau
To collect and disseminate Career Information.
To highlight opportunities for higher studies.
To disseminate information on the scholarship, fellowships, financial assistance, available in India and abroad.
To render vocational guidance to students.
To assist students for securing employment.
To give information on various competitive examination.
To conduct career guidance classes, seminars and career talks and give guidance on group discussions to equip students for better performance and personality development.
To register Post graduate degree holders in general stream and Professional degree holders for employment assistance.
To prepare Employment Information Bulletin to help students in their Educational and Vocational Planning.
The Guidance Bureau is giving individual guidance to candidates to choose professional courses and jobs by assessing the talents, interest, skill, aptitude, family background etc. Another objective of the Bureau is to equip the candidates to face interviews, Group Discussions.
Another major function of the Bureau is to conduct coaching classes for the competitive examinations at the state and national levels. The Bureau conducts coaching classes for UGC/CSIR NET examinations, various competitive examinations conducted by the Public Service Commission, Bank Tests, Staff Selection Commission Test, State Eligibility Test etc. These coaching classes were conducted by collecting a fee of Rs 2000/- from the participants. Fifty percent fee concession is given to Scheduled caste, Scheduled tribe and Physically handicapped candidates. Admission to above programmes are limited to 40 students per batch. The honorarium granted to the resource persons is Rs 500/- per hour. Printed/Photocopies of notes and other study materials are given to each participants.
The Bureau also conducts coaching classes to prepare the students belonging to Minority, SC & ST Community for the UGC/CSIR NET examinations (with the financial assistance of the UGC). Admission to above courses are often limited to 40 students. These coaching programmes were conducted twice a year. ( ie for the exams in June and December). The coaching classes were given for the general paper and detailed classes were given to Commerce and English subjects.
Bureau conducts one day Career Seminar in colleges to create awareness among the students on career opportunities and soft skill development. Seminar would focus mainly on career trends in India and abroad, opportunities for higher studies, how to face an interview and also on Personality development. University is granting funds for the conduct of these programmes.Eminent resource persons are invited for the purpose.
Bureau also conducts career seminars and Career Exhibitions in Higher Secondary Schools in Kottayam District. The career seminars are having half day duration and eminent resource persons are invited for the purpose. The career seminar focus on motivating the students for higher studies, how to select a course, various courses after plus two. Bureau preapred 100 of charts about higher studies and courses and these are also exhibited along with the career seminar.
Deputy Chief visits at least three colleges under the jurisdiction of the University as well as 2 Town Employment Excanges, a Juvenile Home and an ITI every month for delivering career talks. Career talk mainly focus on employment trends, competitive examination, interview techniques, job oriented courses etc.
Professionally qualified persons can register their names with this bureau for their better prospects.
The Bureau has a functional library and at present it has 698 books and other study materials. Publications like The Hindu, Malayala Manorama Daily, Kerala Gazette, Employment News, PSC Bulletin, Tozhil Vartha, Thozhil Veedhi, University News of AIU, Competitive Success Review, Banking Service Chronicle, Civil Service Chronicle, World Foucs, Yojana, Competition Wizard, Prathiyogita Darpan etc are currently subscribed and are readily made available for the reference to the visitors.
Career Seminar
The Guidance Bureau conducted a series of Career Seminars in various colleges under the jurisdiction of the University during 2014. The purpose of such seminars was to train and equip the students to perform better in job interviews and also for their overall personality development. The Bureau conducted 11 seminars in affiliated colleges and 1737 students were benefited by these programmes
The Bureau also conducted 31 career seminars and exhibitions in the higher secondary schools in connection with the strengthening of Vocational Guidance Activities during 2014-2015. 5137 students participated in these programmes.
Career Talk
The Deputy Chief delivered 20career talks during this year and 1598 students got benefited by the programme
Group Discussion
The Deputy Chief conducted 36 group discussions during the year and 201students got benefited by the programme
Individual Guidance
The Deputy Chief gave individual guidance to 185 students during this year.
Information Bulletin
The Guidance Bureau published Employment Information Bulletin with details of various new generation courses, career opportunities, examinations conducted by various recruiting agencies etc.
Majaor Activities:
Coaching Programmes
For competitive examinations conducted by banking recruiting agencies, Kerala Public Service Commission, Staff Selection Commission etc
To prepare the minority/SC/ST/OBC students for the UGC NET Examination
 Career Seminars in Affiliated colleges
The Bureau is conducting Personality Development Programmes in affiliated colleges of M.G University using the fund sanctioned from University
Career Seminars & Career Exhibitions
The Guidance Bureau is conducting career seminars and career exhibitions in higher secondary schools in Kottayam District using the fund sanctioned by Employment Department.
Information Bulletin
The Bureau is publishing an information bulletin on Job opportunities fortnightly. It contains information about the various vacancies reported by the Staff Selection Commission, Union Public Service Commission, Kerala Public Service Commission and other recruitments boards.
These bulletin are forwarded to various public libraries, Govt. Colleges, Employent Exchanges etc.
Employment Registration
Assist Post graduate and Professional Degree holders for their registration at Professional & Executive Employment Exchanges
Self-Employment Assistance
To render information about the various self employment schemes by Employment Department
Recent Programme
Bank Test Coaching Programme starting tomorrow
Duration One Month
Eligibility : Any Degree
Fee : Rs 2000/-  (SC/ST/PH- Rs 1000/-)
Ongoing Programme
UGC NET Coaching programmes for English & Commerce
On Saturdays, Sundays & Holidays
For Minority/SC/ST/OBC
UGC NET Coaching Programme for Minority Community Candidates- April 2015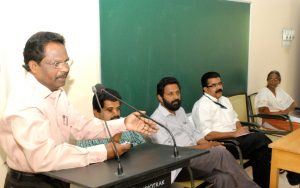 Dr. T.V Thulasidharan, Chief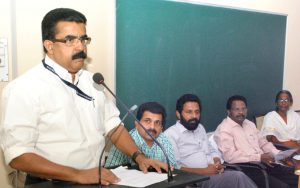 Hon'ble Vice Chancellor, Dr. Babu Sebastian inaugurating the Programme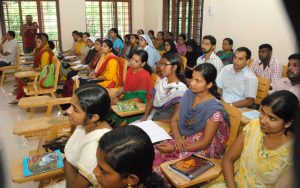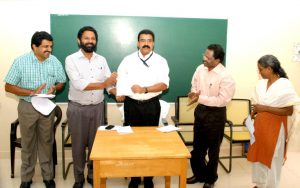 Publication of information bulletin on job opportunities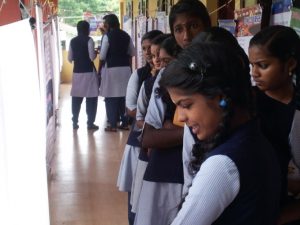 Career exhibition at higher secondary schools