School of physical Education and Sports Sciences
Mahatma Gandhi University,Priyadarsini Hills P O,
Kottayam-686560.Tl:0481-2732368, e-mail: spessmgu123@gmail.com
website:www.mguspess.org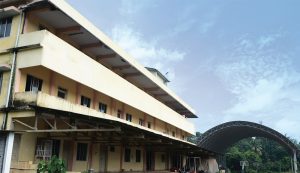 Director
Dr. Binu George Varghese
Tel: 9447006946
Sri. Sunil K.N.
Ph: 9562425113.
NEW     SPESS-ICT-2017-18-Fixture Meeting on 04.08.2017 at the auditorium in School of Chemical Sciences,
PROFORMA FOR CLAIMING SPORTS GRACE MARKS IN UNIVERSITY EXAMINATIONS.
All India & South Zone Inter University Volleyball (M) Tournament, 2016-17- Fixture
Ever since its inception in 1983, MahatmaGandhi University, Kottayam is better known as a "Sports University" for its highest achievements both in national and international levels of Sports and Games. Mahatma Gandhi University, Kottayam has produced several sports persons of national and international importance and fame. These include Sebastian Xavier, SumiCyriac, Sony Cyriac (Swimming), Shyni Wilson, Chithra K. Soman, PreejaSreedharan, sinijoseGreeshma K. M., O.P. Jaisha, Manoj Lal , Bijimol K. S., Sini Jose (Athletics), K.T. Chacko , Mohammed Al Akber (Football), Jisha Thomas, Jasmin George, Daisy Thomas (volleyball), Roopesh Kumar, Shankar P Gopan, Alwin Antony ( Badminton).
Mahatma Gandhi University has produced outstanding sports persons, hence it is the need of the hour to develop the sports infrastructure of the School of Physical Education and Sports Sciences which can be further developed as a "centre of excellence" so as to impart systematic and scientific training programme's to outstanding students both in colleges and University Departments. This centre of excellence will be able to give continuity to these athletes/ players with respect to their sports training programme's which will in turn help to yield the maximum potentials from them in terms of their performance. School of Physical Education and Sports Sciences of Mahatma Gandhi University has the unique credit of presenting three of its Athletes Kum.Chitra.K.Soman , Kum.PreejaSredharan and Kum.Sini Jose of MahahtmaGandhiUniversity to participate in the 2008 Olympics held at Beijing. The School of Physical Education and Sports Sciences, Mahatma Gandhi Unversity is submitting the proposal for constuuction of 50 Mtrs Swimming pool and Indoor stadium under the Scheme for providing one time catch-up grant by the UGC. The achievements of the School is also given in detail in support of the proposal for the development of Sports infrastructure for your perusal and favourableaction
Mahatma Gandhi University has continuously enjoyed high esteem in sports and games, with stellar performances creating new records at National and Inter National levels. The University has produced many top ranking players and athletes of national and international repute. The Physical Education Department has played a remarkable role in promoting physical education by coaching and rendering excellence through advanced courses and refresher courses. Leveraging the affiliated infrastructure facilities of the institutions under it, the University has been able to promote the concept of optimal utilization giving appropriate support for growing and upcoming talents.
The University is extensively promoting sports and games through its affiliated Colleges, which have world class infrastructure facilities in select physical education branches. The physical education teachers inthe affiliated Colleges have been contributing extensively in winning laurels. The University has produced worldclass sports persons like Shiny Wilson,Manoj Lal, Eldo M.A., K.R. Roshan, Primesh,Greeshma, Preeja Sreedharan, Chitra K. Soman, K.T.Chacko, Feroz Sherif, V Jayakumar, Anson K.A.,Muhammed Al Akbar, Rajesh V, Subitha Poovatta,Jisha Thomas, Madhu S.A., Sumi Cyriac and SebastianXavier.
Mahatma Gandhi University is well known among the public for its physical education programmes and sports achievements than anything else. It has the unique distinction of winning the All India Inter University Athletic Women Championship in the very first year of its inception. Thereafter it has won a number of All India Championship including the consecutive victories of the Volleyball (W) team for the last several years. Besides the regular inter collegiate tournaments,the University has organized 15 Inter University tournaments in various games and more than 11 zonal tournaments under the auspices of the Association of Indian Universities, New Delhi.
Mahatma Gandhi University is offering a lot of incentives to its sports persons. Besides reservation of seats in all courses, grace marks upto 25% are awarded to eligible outstanding sports persons. Mahatma Gandhi University has become a role model in India in the field of physical education and the School is about to recommence its prestigious Masters programme in Physical Education.
Outstanding Performers in Asian and International Events are:
Athletics (M): K.R. Roshan, Manoj Lal, Eldo M.A.,Primesh, Biju P
Athletics (W): Shiny Abraham, Jisha Thomas, Sini Brigit Thomas, Gibymol Abraham, Sindhu RV,Nisha Susan Daniel, Bindu Mathew, Jessy C., Lissamma Joseph, Jetty C. Joseph, Greeshma,Chithra K. Soman, Shamlamol K.A., Sudha KR,Preeja Sreedharan, Ancy Scaria, Bindu P, Shiny Varghese, Ajitha Madhavan.
Volley ball (W): Jisha Thomas, Mini Elizabeth Philip, Minimol V.S., Lekha K.C., Sheeba D., Daisy Varghese, Rejimol C, Sreedevi, Jasmin George, Mini Thomas, Anu, Sinu, Sigi Scaria, Beena Antony,Ruby Augustine, Elsamma Mathew, Suja Alexander.
Volley ball (M): Madhu S.A., Anil B. Raj, Vinod • Football (Men): K.T.Chacko, Feroz Sherieff, V.Jayakumar, Muhammed Al -Akbar, Rajesh V.,Anson K.A.
Football (Women): Subitha Poovatta ,Preethakumary, Usha PP., Bentla Dcotha
Basket ball (W): Philomina Joseph, Yamuna K. Philip, Nisha, Ambily Thomas, Rollin Sara Kuruvilla, Rigy A. Sunny, lndu, Sandhya P.V, Priya James.
Basket ball (M): Thomas Kalarickal, Sijimon George.
Handball: Rini Eapen, Seena C., Sajino PR, Sibina C., Leneesha K.L.
Hockey (W): Bindu C.K., Bindu I., Bindu P Nair, Aleyamma Mathew.
Ball Badminton (Women): Geetha Abraham, Liasa A.R. Hathimthai, Jancy K. George, Manju Sadasivan
Shuttle Badminton (Women): Manju Abraham,Mahima Susan Jacob •Shuttle Badminton (Men): Sandeep Louis
Aquatics (Women): Sumi Cyriac
Aquatics (Men): Sebastian Xavier.
Consultancy Services
Child Guidance Clinic and Family Counselling Centre • Adolescent Guidance programmes in schools • Youth programmes in colleges • Disability rehabilitation programmes in the community including prevention and management • Community development projects in Socio-Culturally Backward Communities • Awareness generation programmes related to women's needs.
Faculty Specializations
Special Education (Mental Retardation) • Special Education (Auditory Handicapped) • Special Education (Visual Impairment) • Special Education (Learning Disability) • Behavioural Medicine • Rehabilitation Nursing • Psychology • Research Methodology and Statistics • Social work • Health and Behavioural Sciences.
APPLICATION FORM FOR SPORTS SCOLORSHIP -2015-16
M.G.U'S CONTRIBUTION FOR ASIAN GAMES