School of Letters
Mahatma Gandhi University,Priyadarsini Hills P O,
Kottayam-686560.Tl:0481-2731041, e-mail:schooloflettersdirector121@gmail.com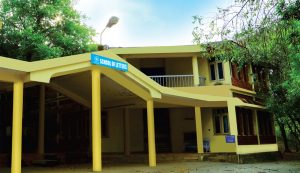 Established in 1988, the School of Letters had some of the best literary minds of India to guide its activities in the formative days. These include : Jnanapitha award winner Prof. U.R. Anantha Murthy, the Vice-Chancellor of Mahatma Gandhi University during 1987-1991, who conceived the idea of an interdisciplinary centre of literary studies and research, and the late Prof. G. Sankara Pillai, the Founder and the first Director of the School, who gave concrete shape to the idea. Prof. Narendra Prasad, was the Director of the School from 1989 to 2003. The members of the faculty and students have received coveted honours at State and National Levels in the field of literature, critical theory, theatre and films. The present Director Prof. K. S. Radhakrishnan has received one National Award and three State Awards in film writing/criticism. Prof. P.P. Raveendran has been a recipient of Kendra Sahitya Academy Award and Dr. Jose K. Manuel has netted State Film Award. Sidharth Siva, who continues to be a scholar in the School has so far received several State and National Awards for his contributions to Malayalam Cinema (101 Chodyangal and Ine).
Programmes At The School
• MA Malayalam
• MA English
• MPhil Malayalam
• MPhil English
• MPhil Theatre Arts
• PhD in English Malayalam, Comparative Literature, Cultural Studies and Theatre Arts
FACULTY MEMBERS
Associate Professor & Head:
Dr. K. M. Krishnan, Tel: 0481-2599468, 9447179486
Professor
Dr. P. S. Radhakrishnan, 9446567097  e-mail   drradhakrishnanps@gmail.com
Assistant Professors:
Dr. Jose K. Manuel Tel: 04822-251155/9446924323
Dr. Saji Mathew Tel. 0481-2732971/9847237570
Dr. Harikumar S. Tel 9446265930
Dr. Aju K. Narayanan  Tel 9496119457
UGC Emeritus Professor:
Dr. P. P. Raveendran, Tel: 0481-2312699, 9447120845
ACTIVITIES
The major regular activities of School of Letters include the publication of its journal Haritham. Haritham happens to be the first academic journal to come out of the university. A journal that gives importance to creative and critical expression Haritham has already carved a niche for itself not only within the country but even abroad.  A number of eminent academics and writers have enriched the pages of Haritham with their writings.  A section set apart for translations of Malayalam works is the high light of Haritham.
School of Letters has organized several important seminars in the past. The International Seminar on Comparative Literature in January February 2006 is preeminent among them. The seminar on Postcolonial literature (2002) Narratives of the Self jointly organized with Sahitya Akademi (2007) and the seminar on Translation and Sign Systems (2007) are some of the major seminars organized by us in the recent past. Apart from that departmental seminar sessions in which researchers and the faculty make presentations are also organised regularly.  Vyazhavattom, meetings on Thursdays is a space for informal gatherings and interactions.
Vaikom Muhammad Basher Chair in honour of the well known author was instituted in 1993. We have had Prof. R. E. Asher, well known linguist and translator, Prof. Jayanta Mahapatra, well known poet and translator and Prof. Susie Tharu, academic and theorist have occupied this important position from time to time. Under theaegis of the Chiar several seminars and workshops were conducted. The main objective of the Chair is to conduct studies in fiction studies.
As the literature department of the University, School of Letters has been fortunate enough to have played host to a number of creative writers and critics. Our students have benefitted from the interaction with these authors. We have also had number of visitors from abroad too, giving extension lectures and reading out their writings.
In March 2010 we played host to Prof. U. R. Anantha Murthy, novelist and former Vice Chancellor of Mahatma Gandhi University. His visit was under the aegis of the ERUDITE Scheme initiated by the Higher Education Council of the Government of Kerala. We look forward to more such visits and interactions with eminent literary personalities from India and abroad.
In the past we have regularly conducted memorial lectures in honour of former directors of School of Letters, Prof. G. Sankara Pillai and Prof. R. Narendra Prasad. The G. Sankara Pillai memorial, falling on the first of January has been marked by regular presentation of plays mostly made by the students and staff of School of Letters, while the Narendra Prasad memorial function has been marked by other cultural programmes. This year the play Paccha  was staged by Abhinaya Thiruvananthapuram as a tribute to Prof. Sanka Pillai, while Bah Aduhu a film made by students with the active support of the staff was the highlight of Narendra Prasad Memorial Lecture in December 2009. While the theatre enthusiasts of Kottayam eagerly await the play productions, many of our play productions have left a deep impact on the theatre scene in Kerala.
Many of our faculty members have adorned various positions and have won accolades and recognitions from the government and other institutions.  Our faculty members have held positions in Sahitya
Akademi, New Delhi, Kerala Sahitya Akademi, Kerala Chalachitra Academy and the like. Many of them have won awards as well from these bodies. The detailed profiles f teachers in this site testifies to this.