School of Gandhian Thought and Development Studies
Mahatma Gandhi University,Priyadarsini Hills P O,
Kottayam-686560.Tl:0481-2731039, e-mail: sgtdsmgu@gmail.com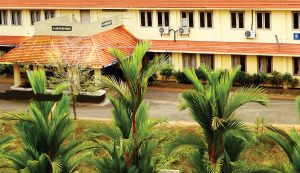 The School of Gandhian Thought and Development Studies was set up in 1983 as one of the founding departments of Mahatma Gandhi University. The Department started the MA programme in Gandhian Studies employing the services of part-time faculty in 1984. The first three regular faculty members joined the Department in 1987. Four more faculty members joined the school in 1988 meeting the stipulated strength of seven set by the UGC. The University sanctioned an additional post in 1990 taking the faculty strength to eight. This makes the School the largest one of its kind in India. The School of Gandhian Thought and Development Studies has been selected by the UGC for Special Assistance Programme (SAP) for 2004-2009 and subsequently for 2009-14.
Thrust Areas
Gandhian Thought, Panchayati Raj, participatory Methods, Peace and Conflict Resolution Studies, Rural Development, Social Work, Indian Social Thought, Ecology.
PROGRAMMS
Programmes offered
MA Gandhian Studies (2 years)
MA Development Studies (2years)
MPhil in Gandhian  Studies (1 year)
MPhil in Development Studies (1year)
PhD
FACULTY
Professor & HOD
Dr. M.H. Ilias, Tel: 0481 – 2731039, Mob: 9717039874.
Associate Professor
Dr. Noushad P.P. Cell: 9447675755
Assistant Professors
---
 UGC National Seminar on Current Trends in Dementia Care