School of Bio-Sciences
SCHOOL OF BIOSCIENCES
Mahatma Gandhi University,Priyadarsini Hills P.O.,
Kottayam-686560.Tel: 0481-2731035, E-mail: bio.sc.office@gmail.com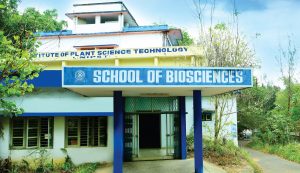 Renotification  for one vacancy for ST student for MSc Bio Physics and MSc Microbiology courses (date of interview 16.08.2017, 11am)
One vacancy for ST student for MSc Bio Physics and MSc Microbiology courses (date of interview 10.08.2017, 11am)
Vacancy for Techinical Assistant on contract basis (last date 17.08.2017)
Vacancy for Project Fellow (31.07.2017 at 11am)
First Semester M.Sc Classes will start on 26.07.2017
Collaborative National Seminar on Ecotechnological Perspectives for Sustainable Development at School of Biosciences on 27-28 July 2017. Brochure  Registration Form
Two Day National Seminar on Recent Trends in Applied Life Sciences on March 15 & 16, 2017.
The School of Biosciences had its beginning as School of Basic Medical Sciences in 1983 by utilizing the faculty and infrastructure of Medical College Hospital, Kottayam. In 1990, the School was renamed as School of Biosciences. The Department is acclaimed for its research activities which provide an exclusive platform for the new generation scientists.
The School anchors on a fundamental branch of knowledge and its application provides the students to gain expertise in a wide spectrum of areas such as Biochemistry, Microbiology, Biotechnology and Biophysics. The School has established research in biochemical aspects of Fermentation Biotechnology, Toxicology, Envi ronmental Biotechnology, Ethanopharmacology, Industrial Microbiology, Inflammation Research, Cancer Research, Ecology, Ecotechnology, Agriculture Microbiology, Plant Tissue Culture, Physiology, Immunobiology and Natural Product Research. The Department has garnered prestigious DBT-BUILDER programme (2012-17) to establish state-of-the-art instrumentation facility, animal maintenance facility and animal cell culture facility. It has also established a strong linkage with the rural society nearby for extension activities.
 Programmes offered by the School are:
MSc Biochemistry
MSc Biotechnology
MSc Microbiology
MPhil Biosciences
Research
Short Term Research Programmes.
Facilities are made available to those who wish to do short term research projects. .
Facilities
The School has sophisticated facilities like Electrophoretic unit with Western Bolt, RT-PCR, Sonicator, Freeze Drier, Refrigerated Centrifuge, ELISA Reader, Liquid Scintillation Counter, Visible Spectrometer, Fermentor, HPLC, Ultra Centrifuge, Atomic Absorption Spectroscope, Spectrofluorometer,Florescence Microscope, PCR and Gel Documentation,HPTLC, CO2 Incubatory, Animal Cell Culture Facility and Animal House.
Achievements
Approximately 75% of the MSc students going out from this Department are qualifying CSIR- UGC National Eligibility Test every year and the research students are presently doing post doctoral research in well known Universities such as Wiseman Institute, Israel, Emery University, Yale University, Leuaster, U.K, Florida State University and National University of Singapore.
Major research area includes Nano Ferrites and Luminescent Materials in association with Baba Atomic Research Centre, Mumbai.
National Workshop on Advanced Statistical Tools & Software for Biological Research (ASSB)
Bodhani – Awareness Program on Prevention and Management of Lifestyle   Diseases
PROGRAMMES
M.Sc
The M.Sc Programmes are conducted under the Credit and Semester System (CSS) and the programmes are
M.Sc in Biochemistry (seats -10) (4 semester)
M.Sc in Biotechnology (seats -10) (4 semester)
M.Sc in Microbiology  (seats -10) (4 semester)
M.Sc in Biophysics(seats – 5) (4 semester)
The selection to the M.Sc Programmes will be based on the marks in B.Sc examination, Entrance test and the Interview.
Fees: 1st semester Course Fee Rs.3318/- Exam Fee Rs.325/-
2nd semester Course Fee Rs.900/- Exam Fee Rs.325/-
3rd semester Course Fee Rs.2568/- Exam Fee Rs.225/-
4th semester Course Fee Rs.900/- Exam Fee Rs.475/-
TOTAL Rs. Course Fee Rs.7686/- Exam Fee Rs.1350/-
M.Phil
The M.Phil programme is conducted in Bioscience (seats -10) and the selection will be based on the marks in M.Sc examination, Entrance test and Interview.
1st semester – Course Fee Rs.5800/- & Exam Fee Rs.775/-
2nd semester – Course Fee Rs.800/- & Exam Fee Rs.425/-
Ph.D
The SBS is having Ph.D programmes in the areas of Biochemistry, Biotechnology, Microbiology and Physiology. Currently the Department is having a total of 30 full time researchers and 19 part time researchers. The interested and qualified candidates are suggested to visit the web site of the Faculty members for more details about the ongoing research programmes and contact them for the available position for the Ph.D programme.
FACULTY
TEACHER PROFILES
Professor & HOD:
Cell: 09446356612, E.mail: jayansbs@gmail.com.
Professors:
Associate Professor:
Assistant Professors:
RESEARCH
The school focuses on Medicinal plant research, Development of Probiotics, Environmental Biotechnology and Bioremediation, Molecular Biology of plant / microbial natural product biosynthesis, Molecular Microbiology, Bioprocess technology, Plant – microbial interaction, Waste water analysis and treatment, Biofertilizer production, biocontrol measures, Plant tissue culture  and Investigations on molecular basis of microbial virulence.
Linkages developed with National/ International, academic/research bodies
The teachers of the Department are in close contact with the National and International Research Institutions and Universities as part of their supportive or collaborative research. This includes NIIST (Thiruvananthapuram), RRI Kottayam, Department of Life Sciences, Kannur University, Cochin University, Rajiv Gandhi Centre for Biotechnology (Thiruvananthapuram), Regional Agriculture Research Station (Kumarakom, KeralaAgriculturalUniversity), National Bureau of Fish Genetic Resource (Cochin Unit), etc.
ACTIVITIES
As a part of its academic activities, Bioscience forum regularly conduct seminars and discussion forums.
Extension activities
The members of the Department are in close contact with the society and consider special importance to the social service. For making it much more       effective an association called "Bioscience forum" was established. As a part of social activity of the forum the members used to make one day visit to the near by orphanage "Navajeevan" and spent the full day with the members there.
Cultural Programmes
Bioscience forum used to conduct cultural programmes in connection with the annual bioscience day, Onam, Christmas and other festivals.
Alumni
The alumini association is working efficiently along with the Bioscience forum and is actively participating in conducting the annual bioscience day and other scientific activities.
FACILITIES
School of Biosciences
Plant Tissue Culture
Animal Cell culture
Animal Maintenance Facility
Instrumentation
Library