University Centre for International Co-operation
University Centre for International Co-operation
P.D. Hills, Kottayam: 686560, Tel:0481 – 2731040. email: ucicmgu@gmail.com ,website:www.ispucic.ac.in
Hon.Director :
Dr. Sajimon Abraham
Mob: 9446224240.
Email: sajimabraham@rediffmail.com
International Students Admission 2018-19. 
Special Talk and Interation on Fellowship offered by Government of Australia for Masters, Ph.D., Post Doctoral and Executive levels in Australian Universites and FDP E-Learning Book Release on 24.05.2017 at 10.30 am in School of Computer Sciences
Book Release- E-Learning, Faculty Development Programme
Special Talk and Interaction on Fulbright fellowships & Research opportunities in United States
Special Talk and Interaction on Research and Career opportunities in Germany
International Students and Research Scholars meet-Celebrating cultural and Social Diversity
Mahatma Gandhi University established University Centre for International Cooperation (UCIC) as an integral part of the interdisciplinary convergence academia centre during 2010. The central objective of the UCIC has been to explore the ways and means that shall facilitate collaborative teaching, research and outreach programmes with reputed institutions from abroad. 13 international students were admitted to Mahatma Gandhi University during 2014-15. List attached.
     1.Objectives
To promote academic collaboration and exchange in teaching and research;
To identify potential international institutions of repute that shall enter into collaboration with Mahatma Gandhi University;
To identify potential academic areas of co-operation;
To formulate short term inter-disciplinary courses for foreign students;
To facilitate international co-operation between University Departments and colleges with foreign academic institutions;
To co-ordinate with national agencies such as UGC, ICCR, ICSSR, ICHR in the promotion of international co-operation;
To facilitate the visits of students, research scholars and teachers from Mahatma Gandhi University in institutions abroad;
To promote and host study abroad programmes of institutions from abroad;
To provide necessary inputs to university decision making bodies so that international exchange will take place to the satisfaction of the institutions involved.
Outward mobility of students from Mahatma Gandhi University.
Partial financial support for study abroad
     2.Faculty
The Porgrammes and activities of the UCIC shall be organized by a Faculty consisting of Members of the faculty of the School of International Relations and Politics as well as other academic departments of the university. Adjunct faculty shall be drawn from among the colleges affiliated to Mahatma Gandhi University as well as from other Universities and Educational Institutions, in Kerala. Besides, there shall be Guest Faculty, visiting Faculty as well as visiting Scholars and Fellows invited from in India and abroad.
INDIA STUDY PROGRAMME
The University Centre for International Cooperation (UCIC) established the India Study Programme for international students as part of the internalization programme in Mahatma Gandhi University. The India Study programme was supported by the Kerala State Higher Education Council. The following activities were initiated under this programme:.
Launched a separate website for international students;
Published an international brochure for promoting India Study programme;
Submitted proposal to the Government of Kerala for the construction of an international students/scholars hostel;
Completed credit transfer regulation for foreign students;
Completed P.G and PhD regulation for foreign students
UCIC received a financial award of Rs. 10 Lakhs from the Department of Higher Education, Government of Kerala for promoting India Study Programme.
Dr. C. VINODAN
Joint Director, UCIC and Hon. Director, ICCS,
Email: vinodan.c@gmail.com
University Centre for International Cooperation, (UCIC)
Mahatma Gandhi University, Priyadarsini Hills
Kottayam, India – 686560.
International students seeking admission in this University in coming academic year.
Brouchre ……………………………………………………………………………………… Fee details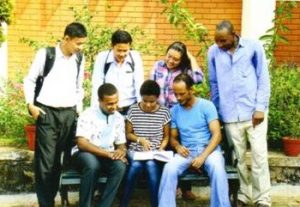 ICCR Sponsored International Students during 2014
List of Foreign Students Admitted to Mahatma Gandhi University Teaching Departments through the ICCR Sponsored Cultural Exchange Schemes / Exchange Scholars / MoU during 2014
 Sl.No
 Name of the Student
 Country
Course and scheme
 College/School
 2014
 1
 Mr. El. Hadji Mamour Sakho
 Senegal
 Ph.D.
 SPAP , MG University
 2
 Mr. Ravneel Prakash Mani
 Fiji
 B.Sc. (Comp. Sc.)
 UCAS, Pullarikunnu
 3
 Mr. Kwasi Mensah Nyarko
 Ghana
 M.A. IR
 SIRP, MG University
 4
Ms. Ni Luh Hindy Citra Satyawati Inggas
 Indonesia
 B.A. Economics
 K.E College Mannanam
 5
 Mr. Adoum Idriss Adoum
 Chad
 M.A. IR
 SIRP, MG University
 6
 Mr. Joseph Phillipo
 Tanzania
 M.Sc. (Comp. Sc.)
 SCS, M.G. University
 7
 Mr. Corentin Maurice Daniel Mercier
 France
 M.A. IR
 SIRP, MG University
 8
 Ms.Fanny Jeanette Marie Josephe Ragot
France
  M.A. IR
 SIRP, MG University
 9
 Ms.Julie Marie Rousseau
 France
 M.A. IR
 SIRP, MG University
10
 Mr. Hay Sambo
 Cambodia
 M.Sc. (Comp. Sc.)
 SCS, M.G. University
 11
 Mr. You Vanndy
 Cambodia
 M.Sc. (Comp. Sc.)
 SCS, M.G. University
 12
 Ms. Ellen Twamanguluka Nghikembua
 Namibia
 M.Sc. Psychology(ASS)
 SBS, M.G. University
 13
 Mr. Feyisa Rita Melaku
 Ethiopia
 Ph.D. in Social Work
 SGTDS, MG University